Marine Transport
Chemical tankers and gas carriers that connect Japan domestically as well as the world globally.
In 1965, we entered the domestic shipping business with Japan's first stainless steel tanker and in 1980, we entered the overseas shipping business.
We currently provide both domestic and international marine transportation services of petrochemical products with vessels complying with IMO (International Maritime Organization) standards. We currently own and operate 23 chemical tankers and gas carriers combined, promptly responding to our customers' needs.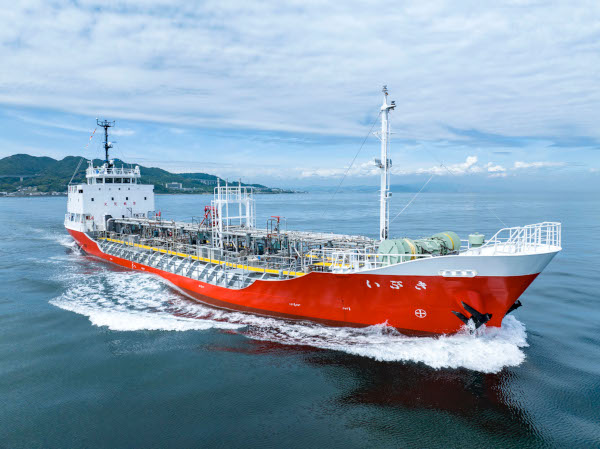 Industrial waste treatment system that contributes to environmental conservation
Measures are taken to adhere to Marine Pollution Prevention Laws and to protect the environment, such as our early adoption of chemical tanker waste fluid disposal and reclamation systems.
Waste generated during the transport of our clients' products is appropriately disposed of; we work diligently to use the most modern reclamation technology to foster a recycling-oriented society.
Acquisition of permission for waste oil treatment facilities designated by the Ministry of Land, Infrastructure, Transport and Tourism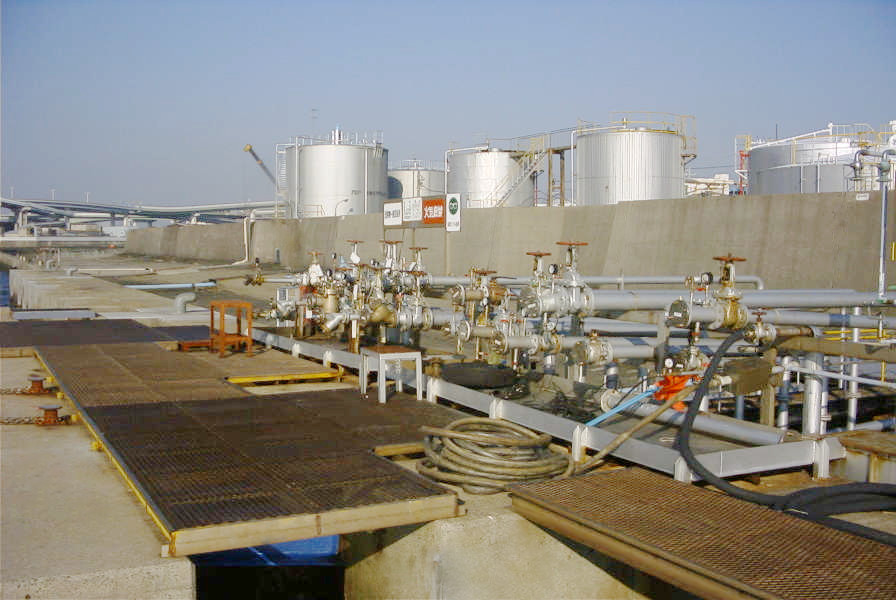 The revised Marine Pollution Control Law went into effect on January 1, 2007, and the classification of hazardous liquid substances has been reviewed. Accordingly, mixtures of solvents, etc., which had not necessarily been cleared before, are now classified as either oils or hazardous liquid substances. If the product is classified as an oil, the tank cleaning water of the vessel that carried the product must be discharged to a waste oil disposal facility designated by the Ministry of Land, Infrastructure, Transport and Tourism.
We have been engaged in intermediate treatment of vessel cleaning water of hazardous liquid substances with a permit for industrial waste disposal business at the Umemachi Terminal, but since the tank cleaning water of the oil tankers can only be unloaded and treated at a facility licensed as a waste oil treatment facility by the Ministry of Land, Infrastructure, Transport and Tourism for the reasons mentioned above, we applied to the Kinki District Transport Bureau for a permit to operate a waste oil treatment facility (waste oil treatment business) as specified by the Ministry of Land, Infrastructure, Transport and Tourism, and received the permit on January 18th, 2007.
Most of the current waste oil disposal companies specialize in the disposal of waste oil from ship bilges, etc. In the Kansai region, there are no companies capable of unloading oil from vessel cleaning water and there were strong requests from shippers and domestic tanker operators, which led to the acquisition of the waste oil treatment business.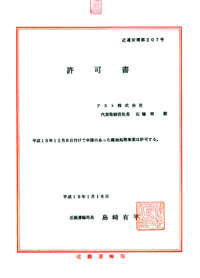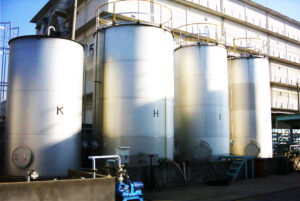 Previously, we were constrained to unload tanker hold cleaning water at remote locations in the Kansai region, however now we are able to unload and process oil tanker hold cleaning water along with conventional hazardous liquid substances at the Umemachi Terminal, which we believe will contribute to the reduction of global environmental impact and the development of liquid cargo transportation.
The conservation of the global environment is the most important issue common to all humankind and AST Inc. Group will promote environmentally friendly business activities in compliance with environment-related laws and regulations. In addition, through business activities in harmony with people and the environment, we will strive for co-existence and co-prosperity with the local community and fulfill our social responsibility as a trusted member of the community.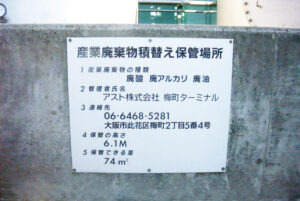 Contents of waste oil
disposal business license
| | |
| --- | --- |
| license number | 近運安環第207号 |
| Installation location | 2-5-4 Umemachi, Konohana-ku, Osaka, 554-0032, Japan |
| Target waste oil | Tanker hold wash water for light oils |